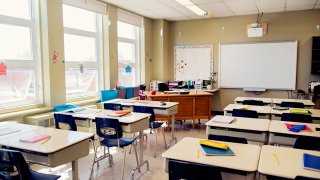 Connecticut's State Department of Education held a webinar Thursday on the plans to reopen schools in the fall following closures resulting from the coronavirus pandemic.
"I really wanted some clarity into everyone back to school and what could that mean and the three options that districts are committed to creating," Waterbury Public Schools Superintendent Dr. Verna Ruffin said.
The state education commissioner, Miguel Cardona, and his leadership team provided more details on the reopening plan in the webinar.
Cardona said he wants schools to reopen this fall but only if it is safe for students and teachers.
"We all want children back for so many reasons," Cardona said.
Cardona said returning to school will look somewhat different in each district.
The state asked schools to provide plans for three scenarios: a full opening of schools, a hybrid model with fewer students in buildings each day and a return to full distance learning.
Coronavirus Pandemic
Full coverage of the COVID-19 outbreak and how it impacts you
"The plan will be guided by health and safety conditions," Cardona said.
"I think that based on the feedback that I'm getting from our community here in Waterbury, it's very wise that we have three plans," Ruffin said.
The best way to provide a safe environment for students is to continue to control the spread of the disease in the community as a whole, said acting Department of Public Health Commissioner Deidre Gifford.
"Public health is first, your health, the health of the kids," said Governor Ned Lamont. The governor said emotional health and supporting young people who are distressed or isolated is an important piece of the equation.
"There's nothing that replaces classroom learning as long as the state can do it safely," Lamont said. "We really want folks to get back into the classroom and I think we can do that safely."
The governor said the indefinite pause on the state's Phase 3 reopening -- involving bars and indoor entertainment venues -- will not impact the reopening of schools because social distancing is more viable in an education facility.
"It is our hope that this will give district leaders, parents, students, teachers, political partners and educational stakeholders a chance to understand the rationale for the plan's provisions and receive answers to any questions that they may have," the education department said on its website.
The webinar comes after the state released its reopening plan called "Adapt, Advance, Achieve: Connecticut's Plan to Learn and Grow Together."
"It's critically important that we improve on this distance learning and virtual learning options," Ruffin said.