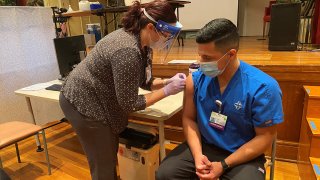 Hospitals in Connecticut have started to receive their first doses of the coronavirus vaccine and Trinity Health Of New England will be giving its first vaccines today.
Healthcare workers will be receiving the vaccine at the Saint Francis Hospital COVID-19 Vaccine Clinic. A news conference will be held at 11 a.m.
The CDC's Advisory Committee on Immunization Practices recommended that health care providers and residents in long-term care facilities should be the first to get vaccinated.
CT's COVID-19 Vaccination Plan
Phase 1A: The first people to receive COVID-19 vaccinations will be healthcare workers, nursing home residents and medical first responders. Vaccines to these groups will be given in phase 1a. This phase will be effective from the start of vaccine distribution through mid-January, Gov. Ned Lamont said.
Phase 1B: Includes critical workforce and other congregate settings, adults over 65, and those who are high-risk under the age of 65, according to the governor. People who fall under this group will be able to get vaccinated from mid-January to late May.
Phase 2: Those under 18 years old and the remaining population will fall under phase 2 of vaccine distribution. People who fall under this category will be capable of being vaccinated in early June, Lamont said.
Stories from NBCLX
LX, or Local X stands, for the exponential possibilities of storytelling in our communities.