White House coronavirus expert Dr. Anthony Fauci disputed President Donald Trump's claims that the U.S. is "rounding the corner" on COVID-19 cases and asserted instead that data was "disturbing."
MSNBC's Andrea Mitchell asked Fauci on Friday about the president's comment the day before that "I really do believe we're rounding the corner."
"I'm sorry, but I have to disagree with that because if you look at the thing that you just mentioned, the statistics, Andrea, they're disturbing," he said. "We're plateauing at around 40,000 cases a day and the deaths are around 1,000."
Meanwhile, Trump continued to defend himself after admitting he had downplayed the severity of the coronavirus pandemic to the American public. The president Thursday said it was "no big thing" he didn't tell the public in February the virus was airborne because it was something "everyone knew." However, at the time, there were still conflicting reports about how the virus spread.
A White House coronavirus coordinator, Dr. Scott Atlas, also faced criticism when 78 of his former Stanford Medical School colleagues accused him Thursday of spreading what they characterized as "falsehoods and misrepresentation of science," CNBC reported.
The pandemic is altering yet another major event on the American calendar – the 19th anniversary of the 9/11 terror attacks. In New York, a dispute over coronavirus-safety precautions is leading to split-screen remembrances blocks apart from one another Friday. In other towns across the country, communities have canceled 9/11 commemorations while others are going ahead, some with modifications.
President Donald Trump and Democratic challenger Joe Biden were both due at the Flight 93 National Memorial in Pennsylvania at different times. Biden also attended the observance at the 9/11 memorial in New York, where he and Vice President Mike Pence greeted each other.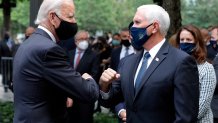 The U.S. has more than 6.4 million confirmed coronavirus cases and 192,000 deaths, according to a tally by NBC News.
The Ebb and Flow of New Coronavirus Cases and Deaths
The graphs below illustrate the distribution of new coronavirus cases and deaths in the U.S. While New York accounted for the lion's share of new cases and deaths in March and April, its numbers have declined in May as some states have increased. Hover or tap to see new daily cases and deaths across the country. States with the most are ordered top to bottom.
Source: The COVID Tracking Project
Credit: Amy O'Kruk/NBC
Here are the latest updates on the coronavirus pandemic in the U.S and elsewhere:
Fauci Disputes Trump's COVID-19 Claims
Top infectious disease expert Dr. Anthony Fauci told MSNBC's Andrea Mitchell on Friday that he could not agree with President Donald Trump's assessment that the U.S. was "rounding the corner" on COVID-19 cases.
"I'm sorry, but I have to disagree with that because if you look at the thing that you just mentioned, the statistics, Andrea, they're disturbing," he said. "We're plateauing at around 40,000 cases a day and the deaths are around 1,000."
Trump had made his comment a day earlier.
Daily new cases in the U.S. have fallen substantially since new national cases peaked in late July, when the country reported nearly 70,000 new cases in a day, according to data compiled by Johns Hopkins University. Over the past seven days, the country has reported an average of about 35,200 new cases per day, down more than 12% compared with a week ago, according to a CNBC analysis of Hopkins data. However, recent data reporting has likely been impacted by the Labor Day holiday weekend, which shuttered some local health departments and clinical laboratories.
While the number of daily new cases remains far lower than the peak, the country is still reporting a worrying level of new infections, Fauci said.
"When you have a baseline of infections that are 40,000 per day and you have threats of increased test positivity in certain regions of the country, such as the Dakotas and Montana and places like that ... You don't want to start off already with a baseline that's so high," he said.
CNBC reported that Fauci cautioned against expecting life to return to normal as soon as a vaccine is available. Even as movie theaters, gyms and salons are opening and some states are allowing limited indoor dining, daily life in the U.S. won't get back to normal until late 2021 when a vaccine for COVID-19 is widely distributed, the nation's leading infectious disease expert, he said Friday.
Fauci said that he remained confident there would be a vaccine available by the end of this year or early 2021.
"But by the time you mobilize the distribution of the vaccine and get a majority or more of the population vaccinated and protected, that's likely not going to happen until the end of 2021," he said. "If you're talking about getting back to a degree of normality prior to COVID, it's going to be well into 2021, towards the end of 2021."
Earlier Fauci had warned that the U.S. needed to hunker down through the fall and winter.
Read more from NBCNews here and from CNBC here.
---
Can Antarctica Stay Coronavirus-Free?
At this very moment a vast world exists that's free of the coronavirus, where people can mingle without masks and watch the pandemic unfold from thousands of miles away.
That world is Antarctica, the only continent without COVID-19. Now, as nearly 1,000 scientists and others who wintered over on the ice are seeing the sun for the first time in weeks or months, a global effort wants to make sure incoming colleagues don't bring the virus with them.
From the U.K.'s Rothera Research Station off the Antarctic peninsula that curls toward the tip of South America, field guide Rob Taylor described what it's like in "our safe little bubble."
In pre-coronavirus days, long-term isolation, self-reliance and psychological strain were the norm for Antarctic teams while the rest of the world saw their life as fascinatingly extreme.
How times have changed.
"In general, the freedoms afforded to us are more extensive than those in the U.K. at the height of lockdown," said Taylor, who arrived in October and has missed the pandemic entirely. "We can ski, socialize normally, run, use the gym, all within reason."
Like teams across Antarctica, including at the South Pole, Taylor and his 26 colleagues must be proficient in all sorts of tasks in a remote, communal environment with little room for error. They take turns cooking, make weather observations and "do a lot of sewing," he said.
Good internet connections mean they've watched closely as the pandemic circled the rest of the planet. Until this year, conversations with incoming colleagues focused on preparing the newcomers. Now the advice goes both ways.
"I'm sure there's a lot they can tell us that will help us adapt to the new way of things," Taylor said. "We haven't had any practice at social distancing yet!"
---
Virus Cases Spike in Eastern Europe
The number of new COVID-19 cases is spiking in parts of Eastern Europe, with Hungary and the Czech Republic registering all-time highs.
Hungarian Prime Minister Viktor Orban says the government is drafting a "war plan" to defend against the second wave of the pandemic. Orban says the plan's aim is "not for everyone to stay at home and bring the country to a halt ... but to defend Hungary's functionality."
Hungary registered 718 virus cases on Friday, 142 more than the country's previous daily record. The Czech Republic reported 1,382 confirmed cases in 24 hours, leading to the return of face masks being mandatory in enclosed spaces.
---
India Nears Milestone
India has edged closer to recording nearly 100,000 coronavirus cases in 24 hours as it ordered retesting of many people whose first results were from the less reliable rapid antigen tests being widely used. There were a total of 96,551 cases in the past 24 hours, taking the tally to over 4.56 million. The Health Ministry also reported another 1,209 deaths for a total of 76,271.
It has asked states to allow testing on demand without a doctor's prescription. It also said some negative rapid antigen tests should be redone through the more reliable method that looks for the genetic code of the virus.
---
US May Have Reached 6 Million COVID-19 Cases in April, Study Finds
The U.S. currently has more than 6.3 million confirmed coronavirus cases, but a new study from the University of California, Berkeley's School of Public Health shows the U.S. may have actually reached that case count months ago.
On April 18, the U.S. had some 721,000 confirmed cases, but researchers at Berkley estimate the actual number of cases was 9 times that, or 6.4 million cases.
At the time, health officials told Americans to only get tested if they had moderate to severe symptoms. But now, some 30-70% of those who test positive have mild symptoms or are asymptomatic, meaning that back in April, many cases could have gone unrecognized, the study finds.
Researchers say Puerto Rico, California and some Southern states most likely had much higher cases than reported. Overall, infection numbers were likely 10 times higher than confirmed cases in 33 states, the study reports.
---
Pandemic Takes Toll on Mental Health of Young Adults
A new poll has found that the coronavirus pandemic has taken a harsh toll on the mental health of young adults in the United States.
The latest COVID Response Tracking Study conducted by NORC at the University of Chicago found those between 18 and 34 were more likely to report negative feelings or experience stress-related symptoms like trouble sleeping than any other age group.
Besides starting their adult lives during the pandemic, they are also dealing with a recession as they navigate life transitions like starting college or finding jobs without being able to experience normal social activities.
---
Schools That Are Mostly Black, Latino Favor Starting Online
Districts where the vast majority of students are white are more than three times as likely as school districts that enroll mostly students of color to be open for some in-person learning, according to an analysis conducted by The Associated Press and Chalkbeat.
While that stark divide often reflects the preferences of parents, it's one that could further exacerbate inequities in education.
In every state, the AP and Chalkbeat surveyed the largest school districts in each of four categories set by the National Center for Education Statistics: urban, suburban, town and rural.
Survey responses from 677 school districts covering 13 million students found that most students will begin the school year online. That's the case for the vast majority of the nation's biggest districts, with the notable exception of New York City. But the survey shows that race is a strong predictor of which public schools are offering in-person instruction and which aren't.
The higher a district's share of white students, the more likely it is to offer in-person instruction — a pattern that generally holds across cities, towns, suburbs and rural areas.
Across the surveyed districts, 79% of Hispanic students, 75% of Black students, and 51% of white students won't have the option of in-person learning.
Read the full story here
---