Gov. Ned Lamont announced that travelers coming from the states in which the travel quarantine advisory is in effect will have to follow protocols or they could face fines.
Travelers will now have to complete an online Travel Health form before traveling to Connecticut from the 22 impacted states.
This will apply to all travelers regardless of how they travel to Connecticut, Lamont said.
Lamont said that travelers will be subject to a $1,000 fine if they do not comply with the quarantine or complete the Travel Health form.
Spot checks will also be conducted at Bradley Airport, Lamont said.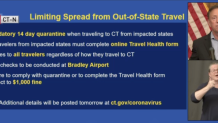 Anyone who is traveling into Connecticut, New York or New Jersey from a state that has a new daily positive COVID-19 test rate higher than 10 per 100,000 residents or a state with a 10 percent or higher positivity rate over a seven-day span must self-quarantine for 14 days.
Coronavirus Pandemic
Full coverage of the COVID-19 outbreak and how it impacts you
New Conn. Coronavirus Numbers
Connecticut hospitalizations have declined by 12 over the past three days and the percentage of positive tests continues to stay below one percent.
The state saw a 0.6% positivity rate over the past three days. Hospitalizations now stand at 54.
Ten new deaths have been reported, bringing the state death toll to 4,406.
An additional 162 people have tested positive for coronavirus, bringing total cases to 48,055.
There have been 27,323 tests performed in Connecticut since Friday.