All state employees, K-12 teachers and staff, and early childhood staff will be mandated to be vaccinated against COVID-19 by Sept. 27 or will have to follow a testing out option, Gov. Ned Lamont announced Thursday.
The new state mandate comes amid new concerns over the delta variant and rising coronavirus case numbers in the state where infection rates and hospitalizations are at levels not seen since the spring.
Those employees eligible for a testing-out option who choose to test instead of get the vaccine will have to test weekly, according to the governor. State employees in hospital facilities will not have a testing-out option, Lamont said.
The vaccine mandate includes long-term care employees, a mandate which was previously announced and is effective Sept. 7.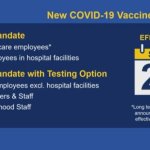 The vaccine mandates have accommodations for medical exemptions or "sincerely-held religious beliefs," acting state public health commissioner Deidre Gifford said.
The medical exemptions would have to be documented by a healthcare professional, Gifford said.
Coronavirus Pandemic
Full coverage of the COVID-19 outbreak and how it impacts you
Teachers in both public and private schools will be subject to the vaccine mandate, said education commissioner-designee Charlene Russell-Tucker.
According to Gifford, the current health insurance plan for state employees does not pay for asymptomatic COVID-19 testing so those who opt for the testing route would be required to pay out of pocket as the system stands today.
What remains unclear is what happens on Sept. 30 when the governor's executive powers authority is set to expire. According to Lamont, with his authority over the COVID-19 crisis set to end at the end of the month, so will this vaccine mandate unless he and the legislature can come to an agreement.
Questions About Statewide Indoor Mask Mandate
The governor held his news conference amid a growing call from leaders of towns and cities across the state who are asking him to make a statewide indoor mask mandate.
A group of 22 cities and towns in southeastern Connecticut Wednesday called on Gov. Ned Lamont to issue a statewide mask mandate.
The Southeastern Connecticut Council of Governments (SCCOG) sent the governor a letter after holding a teleconference Wednesday morning to discuss municipal mask mandates.
In all, the chief elected officials from 20 of the 22 municipalities that make up the SCCOG, along with the directors of three regional health districts, representatives from the Mashantucket Pequot Tribal Nation and the Mohegan Tribe, and liaisons from the U.S. Naval Submarine Base and the Coast Guard Academy were all on the call.
"We thoroughly discussed the positive impact on health that an indoor mask-wearing mandate would have, but we also note the difficulty that individual towns would have in enforcing a mandate at the municipal level," Fred Allyn III, mayor of Ledyard and SCCOG chairman, said in the letter to Lamont. "Because the transmission of COVID-19 does not stop at municipal borders or regional boundaries, we also worry that imposition of a mask mandate on a town-by-town basis would not be as impactful as a statewide mandate."
"As municipal leaders, we urge you to use your office and authority to establish a statewide mandate, as opposed to a patchwork of municipal mandates," Allyn said.
On Tuesday, the state's test positive rate climbed above 4% for the first time since the spring. Hospitalizations due to COVID-19 in the state are also reaching levels not seen since May.
So far, Lamont has said he doesn't believe a statewide mandate is necessary.
At a press conference Thursday Lamont said he wanted to leave it up to local officials to determine if a mask mandate is necessary in their areas, noting that different areas of the state are seeing different rates of case increases and some have better vaccination rates than others. He added that he wants to continue to offer an incentive for people to get vaccinated but warned that if the numbers keep trending up, he may reconsider.
"To be blunt about it, get back to me in a week. We're going to continue to watch these numbers very carefully. If we find that we can't continue to have a flattening of the curve, that things are going up it could change" he said.
Max Reiss, director of communications for Gov. Lamont, released a statement regarding the SCCOG's request:
"There is currently an executive order mandating that all unvaccinated individuals wear masks while indoors and the CDC strongly recommends wearing masks in indoor settings, guidance that Governor Lamont and the Department of Public Health have urged individuals to follow. Getting and encouraging vaccinations against COVID-19 continues to be the best way to protect yourself and your loved ones against the virus, and the governor continues to urge all elected officials to pursue those efforts in their communities."
The Capital Region Council of Governments (CRCOG) sent a letter to Lamont Thursday requesting that he institute a mandate to wear masks indoors throughout the state.
CRCOG is made up of 38 municipalities in the Greater Hartford region.
"I think I'll give a little more discretion" to the mayors and town leaders, Lamont said Thursday.
Connecticut's COVID-19 Numbers
The state's COVID-19 test positive rate was 3.37% on Thursday. There are currently 344 hospitalizations in the state from COVID-19.
In Connecticut, 74% of the population over the age of 12 is vaccinated, according to Lamont.