Connecticut's COVID-related deaths have surpassed a tragic milestone of 5,000 as hospitalizations continue to climb.
With an increase of 81, hospitalizations now stand at 1,098.
Of nearly 107,000 tests performed since Friday, 4,714 came back positive. The positivity rate now stands at 4.4%, which is a decrease from 4.81% on Friday.
An additional 59 people have died from COVID-19 over the weekend. The state's death toll is now 5,020.
Governor Ned Lamont said the state is not going to know Thanksgiving's toll on COVID-19 numbers for another week or two.
According to Chief Operating Officer Josh Geballe, a total of 71% of 8,000 hospital beds in the state are currently occupied. Of 1,000 ICU beds, 59% are occupied. About one-third of ICU beds currently occupied in Connecticut hospitals are COVID-positive.
"Beds are not going to be the limiting capacity, it's going to be people," Lamont said during Monday's press conference.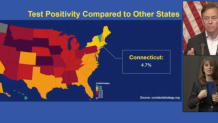 Vermont and Hawaii remain the only states in the green with a minimal positivity rate.
Connecticut remains in light yellow, which is the second lowest positivity rate category.
The state now has the ability to punish businesses that violate COVID-19 restrictions with $10,000 fines.
Connecticut's test positivity rate was just shy of 6% the day before Thanksgiving and 10 more towns were added to the list of Red Alert areas, the state announced Wednesday afternoon.
State Urges Community to 'Step Up' Amid Pandemic
The governor is urging the community to step up and help amid the coronavirus pandemic.
The state is looking for residents to step up to become substitute teachers, volunteer at testing sites, work in a variety of roles in nursing homes or hospitals, distribute food to those who need to stay home, and more.
As COVID-19 cases increase, so does the demand for these jobs.
"We have hundreds of people, we need many hundreds more," Lamont said in a press conference on Monday.
For more information, click here.