Connecticut's COVID-19 positivity rate remains above one percent and hospitalizations have declined.
Since Friday, 497 people have tested positive for the virus out of 45,595 tests performed. This is a 1.1% positive test rate and the state is continuing on an upward trend seen for about a week and a half.
A total of 56,024 people have tested positive for COVID-19 since it emerged in Connecticut.
The state has seen a positivity test rate above 1% for more than a week. It is an uptick in cases that the governor said he is watching carefully.
Hospitalizations have decreased by nine, bringing the state's total to 68. The number of coronavirus-related hospitalizations was at 77 on Friday, which was the highest it has been since July.
Three more deaths have been reported. Connecticut's death toll is now 4,495.
State Announces New Vaccine Advisory Group
Gov. Ned Lamont announced that Connecticut will have a vaccine advisory group that will brief the public on the safety and efficacy of the coming COVID-19 vaccine.
The group will also evaluate who should be prioritized in vaccine distribution, according to Lamont.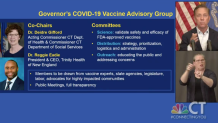 Dr. Deidre Gifford, acting commissioner of the state Department of Health and Dr. Reggie Eadie, president and CEO of Trinity Health of New England will co-chair the group.
Gifford said the group's transparency is key to gaining the confidence of the public.
Their meetings will be public.
A plan could be expected by late fall, according to Gifford.