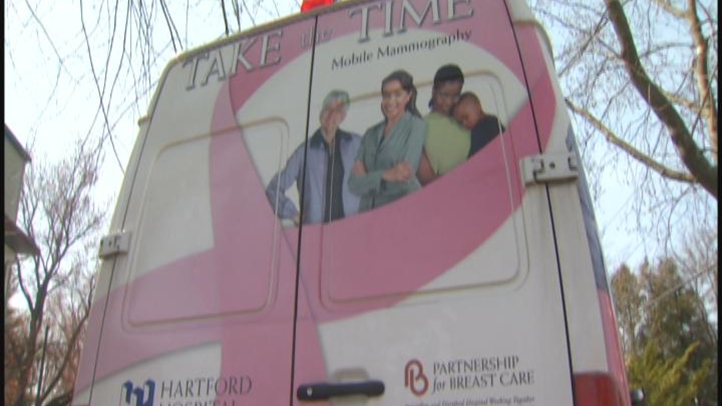 When Francis Sadowski lost her mother to breast cancer, she says it changed her life.
"My mom suffered from the disease and it was very hard knowing that she was dying," said Sadowski.
So she decided to be proactive and had a test done to see if she was genetically predisposed to the disease. When the results came back positive, her doctor recommended annual screenings. Three years later, abnormalities were discovered in an x-ray and she knew she did not want to take any chances on her future.
"I did not want to go through what my mom went through. My decision was I think very drastic for a lot of women. The fear of pain, of chemotherapy took the best of me and I decided with the radical treatment and have a double mastectomy and today I'm free," said Sadowski.
Sadowski said she owed her freedom to a mammogram, a routine test that many women often neglect. Dr. Andrew Salner, of the Helen and Harry Gray Cancer Center at Hartford Hospital, said that is one of the many reasons they decided to take their screenings on the road.
"We've learned that most of the women for whom we do mobile mammography, haven't had a mammogram in the last two to five years, or ever," explained Salner.
The mobile mammography program serves the communities within the Hartford area, providing free mammograms to those without insurance or access to a medical facility.
"The van actually would go to a church or to a neighborhood center, community center or senior center or a place of work and the mammography unit would actually roll out of the van into that place of trust for people," said Salner.
One of the locations includes the Southend Wellness Senior Center, where Sadowski works as the activities coordinator. Thanks to her efforts, it makes a visit every year to screen area residents.
"We have wonderful success stories. I'm getting the telephone (call) that 'I'm in treatment' or 'the doctor says I'm absolutely fantastic' It is just heartwarming to hear from the members here that help them, help them make the decisions and save their life," said Sadowski.