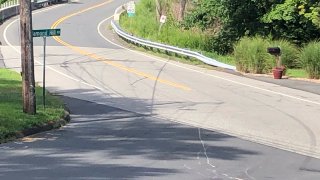 A 36-year-old Meriden man has died after a crash in Cheshire early Sunday morning.
Officers responded to Diamond Hill Road and South Meriden Road around 5 a.m. after getting a report of a single-vehicle crash.
The driver was the only person in the vehicle and had died from injuries sustained in the crash, police said.
They have identified him as Jeremy Rodriguez, 36, of Meriden.
Police said it appears that the vehicle was heading west on Diamond Hill Road at a high rate of speed and went off the road at a curve, then hit several trees.
Police said all sides of the vehicle, including the roof, were damaged.