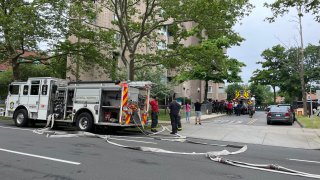 One person was seriously injured after a fire in New Haven on Tuesday.
Firefighters said the fire is at 90 Park St. and a burn victim was found on the 14th floor.
The individual has serious burn injuries. They were taken to the hospital for treatment and it's unknown how they're doing at this time.
Firefighters quickly extinguished the blaze and all damage was contained to one unit.
Another person has minor injuries as a result of the fire. They were injured while evacuating the apartment building, according to Assistant Fire Chief Justin McCarthy.
Crews said there are several floors that have been moved out because the elevators are shut down due to the sprinkler activation.
The cause of the fire is under investigation. Officials are working to get the elevators back up and running as soon as possible.