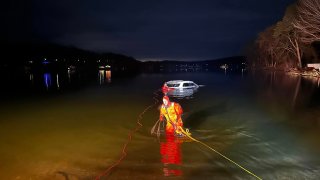 One person was taken to the hospital after a vehicle went into a lake in Marlborough on Saturday night.
Firefighters responded to the boat launch at Lake Terramuggus around 10 p.m. after getting a report of a vehicle in the water with the occupant stuck on the roof.
When emergency crews arrived, they said the occupant had swam to shore. Due to the prolonged exposure to the freezing water and cold air, the occupant was taken to the hospital to be treated for non-life threatening injuries, according to investigators.
Crews entered the water to conduct a search and said there were no other occupants.
The vehicle was recovered and was removed from the water.