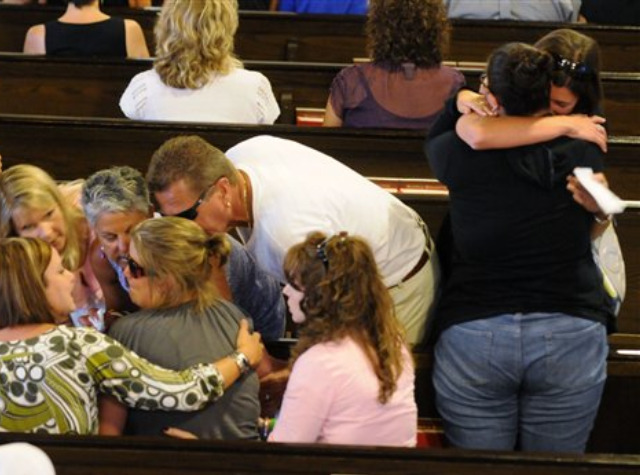 An estimated 1,100 people filled St. Mary Margaret Mary Church Wednesday night for a memorial mass. The South Windsor church was the home parish of Craig Pepin, one of the 8 people murdered in Wednesday's massacre at Hartford Distributors in Manchester. The memorial mass was held in honor of all 8 victims.

Father Daniel Sullivan spoke to the mourners about beginning the difficult healing process. He spoke personally about Craig Pepin, and offered his condolences to the family and friends of all 8 victims. Among those in the crowd was Ross Hollander, the CEO of Hartford Distributors whose brother was wounded in the attack.

"It's a very tight knit family, an extended family," explained Hollander family spokesman James Battaglio. "They will overcome it."

Afterwords, people gathered outside the church for hours, hugging and crying. Few wanted to speak on camera. Those that did were still raw with emotion.

"Absolute great guy," said Jerry Griffin about Craig Pepin. "Everyone was his friend."

Even those that didn't know the victims personally attended the mass. Janet Koch was almost in tears as she walked to her car.

"It was so much in my backyard. It was so tragic," Koch said.

Not far from the church in South Windsor, Thursday afternoon Ross Hollander will make his first statement since the shootings.