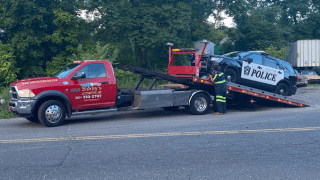 A 15-year-old crashed a stolen car into a police cruiser in Naugatuck Tuesday afternoon, according to police.
The crash happened in the area of Elm Street and sent a police officer to the hospital to be checked out for minor injuries.
Police said Wednesday that Naugatuck officers around 4:30 p.m. Tuesday were investigating a ping that alerted them to an Audi that had been stolen from Avon, which led them to a commercial trucking parking lot on Elm Street.
One officer saw the Audi and radioed for assistance, drove up to the vehicle and the driver fled, police said.
A second Naugatuck officer heard the request for help, pulled into the
commercial trucking lot and the Audi came out from a row of bushes and hit the officer's marked patrol vehicle, police said. Debris from the impact hit pedestrians walking in the area.
The driver of the stolen vehicle, later identified as a 15-year-old, continued driving into the downtown area of Naugatuck before ditching the car in a commercial parking lot on Water Street and taking off on foot, police said. Officers were able to catch the suspect a short time later.
The teen has an extensive history of stealing vehicles, according to Naugatuck Mayor Pete Hess.
Police said the teen is known to Naugatuck police, as well as other agencies.
He has been charged with criminal attempt to commit assault in the first degree, larceny in the first degree by possession, assault on a police officer, interfering with an officer, evading responsibility, reckless driving and operating without a license.
The officer who was struck in the patrol vehicle was Officer Hailey Zarzuela and she sustained injuries to her arm and leg, police said. She was transported to Waterbury Hospital and released last night.