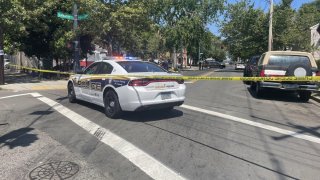 Police have arrested a 17-year-old in connection with a double shooting in New Haven on Monday.
The shooting happened just before 2 p.m. near a gas station on Kimberly Avenue between Lamberton Street and Howard Avenue.
Responding officers found a 35-year-old man who had been shot. He was taken to the hospital to be treated for non-life-threatening injuries, according to police.
A second victim, a 33-year-old man from Waterbury, walked into the hospital with a gunshot wound, police said. That man also suffered non-life-threatening injuries.
Investigators looked at video footage of the shooting and were able to get a description of the suspect. The 17-year-old suspect was found in a house on Howard Avenue, according to police.
The suspect was charged with two counts of first-degree assault, first-degree reckless endangerment, unlawful discharge of a firearm, and carrying a pistol without a permit.
Anyone who may have witnessed the shooting is asked to call New Haven police at (203) 946-6304.