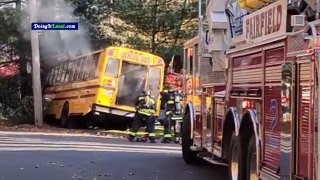 Three people, including two children, were taken to the hospital Tuesday after a school bus crashed off the road into a tree in Fairfield, fire officials said.
When fire crews arrived the bus, which hit the tree then caught fire on Mountain Laurel Road, was already evacuated. Crews put out the fire without issue.
The bus driver and two children were taken to the hospital with non-life-threatening injuries.
The cause of the crash is under investigation.
No other details were immediately available.