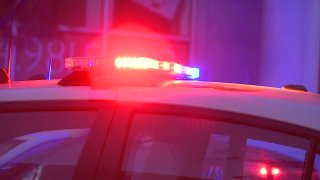 Two people are dead and several others are injured after a wrong-way crash on Route 8 in Bridgeport that happened Sunday night.
Connecticut State Police said they responded to the area of exit 2 on Route 8 South after a car traveling in the wrong direction caused a multi-car accident.
Officials said one of the drivers struck a car head-on, causing a chain reaction collision between three cars.
The driver traveling the wrong way was taken to a nearby hospital where he remains in critical condition. His passenger was pronounced dead at the scene, according to authorities. He's been identified as 46-year-old Ananias Castillo-Icabalzeta of Bridgeport.
Police said the driver of the initial car hit was taken to a nearby hospital where she was pronounced dead. Two children that were passengers in the car were also hospitalized with non-life threatening injuries.
The woman that died has been identified as 41-year-old Monica Wilson of Westport, whose birthday would have been Monday.
Drivers of the other two cars were also taken to the hospital with non-life threatening injuries.
The Connecticut State Police Collision Analysis and Reconstruction Squad responded to the scene and is investigating.
Route 8 South was closed in the area for about five hours.