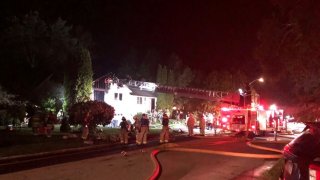 Two people were rushed to the hospital after a house fire in Mystic Thursday.
Fire officials said they responded to the home on Somersett Drive after receiving multiple calls. Crews found a woman unresponsive in the bedroom and performed CPR. She was taken to Lawrence + Memorial Hospital and then transported to the Bridgeport Burn Center.
The 92-year-old victim later died of her injuries, police said.
A second person was taken to L+M with what were described as minor injuries.
Fire officials believe there were only two people in the home at the time.
It appears the fire started in a bedroom, though the cause remains under investigation. The damage is mostly contained to two bedrooms on the second floor and the attic, officials said.