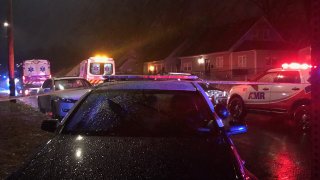 The Hartford Police Department is investigating the shooting that killed two brothers Tuesday night as a double homicide, according to police.
Just before 6 p.m. police said they received a call from a witness inside at 161 Westminster Street on the report of two people suffering from gunshot wounds.
Responding officers located two males in their 40s with multiple gunshot wounds. Both men were transported to the hospital where they were pronounced deceased.
Police have identified one victim as 46-year-old Leon Kelly. Tuesday was his birthday, according to a news release from police. They identified the other victim as 47-year-old Charles Kelly. Police said they were brothers.
According to police, the witness was taken out of the home and was not injured. The witness is not a suspect at this time.
Police said no weapons were found and have obtained a search warrant to further investigate the incident.
Police said they can't release any information about the relationship between the witness and victims at this time.
At this point in the investigation, police said they believe the shooter did not live in the home and stated it appears to be a double homicide and that the home was targeted.
These were the sixth and seventh homicides of the year in Hartford.
This investigation is ongoing.