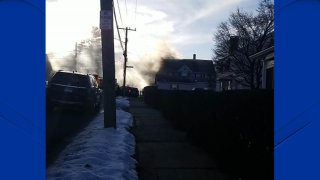 Two people have been taken to the hospital after a fire tore through their home in Bristol Thursday evening.
Fire officials said the fire started in a first-floor bedroom of a house on Gridley Street.
Two people living in the home were hospitalized for smoke inhalation. Both residents have non-life threatening injuries, according to firefighters.
There were reports of a person trapped on the second floor, but they were able to get out on their own, according to Fire Chief Richard Hart.
The blaze has since been extinguished and overhaul efforts are underway.
The fire marshal is at the scene working to determined a cause. No additional information was immediately available.