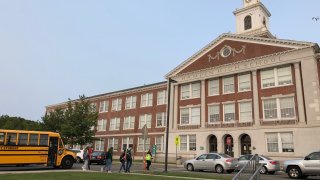 Two girls are facing charges after officers found a stun gun following an argument at Hamden High School Tuesday.
Hamden Police said the high school's resource officer was notified of a verbal argument between two students at about 11 a.m. The officer found a stun gun while investigating, according to police.
The stun gun appeared to look like a cell phone and it was seized as evidence, authorities said.
Two female students face charges in connection to the incident. The first student faces charges for breach of peace and possession of a weapon on school grounds. The other student faces possession charges, too.
Both girls are scheduled to appear in court in February. Police said additional officers patrolled the area for the remainder of the day Tuesday.
No injuries were reported and there's no active threat to students or staff at this time.