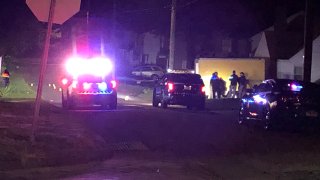 Two men were taken to the hospital after a shooting in Bloomfield on Monday night.
Officers were called to Brookline Avenue around 8:45 p.m. after getting a report of multiple gun shots in the area.
When police arrived, they said they found a 23-year-old man suffering from gunshot wounds to his torso and legs. He was transported to Saint Francis Hospital to be treated for his injuries.
While at the scene, officers said they learned that a 27-year-old man with a gunshot wound to his chest had been driven to Saint Francis Hospital by acquaintances. His wounds are believed to be non-life threatening, according to police.
Investigators said they believe the two men were assaulted during an argument involving three to five suspects.
The investigation is ongoing. At this time, police said there is no suspect information available.
Anyone with any information is asked to call Bloomfield Police Department at (860) 242-5501.