A Windsor middle school guidance counselor has been placed on administrative leave for allegedly producing erotic horror movies, one day after a Granby middle school principal accused of working alongside him was suspended.
Dr. Mark Foley, the principal of Granby Memorial Middle School, and Aaron Vnuk, a counselor at Sage Park Middle School in Windsor, are both accused of using aliases to make independent horror movies featuring violence and nudity through their company Moongoyle Entertainment.
Granby Supt. Alan Addley said on Thursday that Foley had been placed on administrative leave while the school system investigates his conduct.
"The administration and BOE are concerned about the judgment used to be engaged in such activities while serving as an educational leader. Accordingly, we are looking into this matter to obtain all the facts," Addley said in a statement Thursday.
Tim Cunningham has been appointed to serve as interim principal. Addley said middle school staff planned to "briefly address the matter with students in a developmentally appropriate matter."
Windsor Supt. Dr. Craig Cooke posted a statement on the Sage Park Middle School Web site Friday announcing Vnuk's suspension.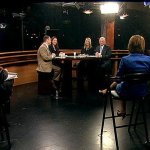 "Yesterday morning we learned of the alleged involvement of one of our Sage Park teachers in a movie production firm. The movies produced by this firm contain, in my opinion, inappropriate content and is certainly not something Windsor Public Schools would condone. We are investigating this matter thoroughly and will continue to do so until we have information needed to make a decision," the statement says.
Cooke said the school system is conducting an investigation and that, at this point, he has no reason to believe Windsor students were "at risk."
Local residents are questioning the educators' motives.
"If he found doing those movies perfectly acceptable, why were they made under a pseudonym?" Granby resident Leonda Markee wondered.
"I do think there needs to be a discussion of what is appropriate and what isn't," said Markee.
Neither Foley nor Vnuk have returned responded to requests for comment. Their current involvement with the film company is unclear.