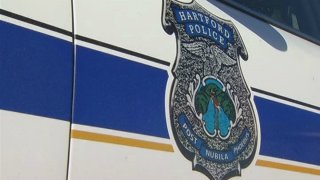 One person is dead and another person was transported to the hospital after a head-on collision in Hartford on Sunday, according to fire officials.
Officials said they responded to the area of 2964 Main St. for a head-on motor vehicle accident with three cars involved.
No extrication was required, but two adults needed to be transported to a nearby hospital for treatment of injuries, crews said. One of the individuals had serious injuries and was pronounced dead at the scene. Police identified the person who died as 46-year-old Jason Lewis of Hartford.
Officials said the man was driving north when he hit the back of another car. That crash ultimately caused another accident, according to police.
The other person transported to the hospital remains in stable condition. No other injuries were reported.
Police were called to the scene for crowd control and they're handling the investigation.
The Hartford Police Crimes Scene Division responded to the scene and assumed the investigation. The caused of the crash remains under investigation.
Editor's Note: An earlier version of this story said that one person died and two additional people were transported to the hospital with injuries. Police later said that one person died and only one person was transported to the hospital.