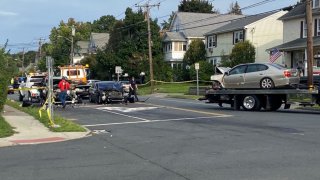 A Hartford man died in a crash in Manchester Tuesday.
The four-vehicle crash happened near the intersection of West Center Street and McKee Street, according to police.
Police said a vehicle traveling eastbound on West Center Street swerved into the westbound lane and struck another vehicle head-on. Two other vehicles behind the one traveling west were also caught up in the crash.
The drivers of the first vehicle and the second vehicle were taken to the hospital with life-threatening injuries.
Police said one of those drivers, 40-year-old Vere Veira, later died from his injuries.
A woman remains hospitalized with significant injuries, police said.
The driver and passenger in the third vehicle were also taken to the hospital with non-life-threatening injuries and were later released. The driver of the fourth car was not hurt.
The conditions of those involved were not released as of Tuesday night.
Investigators believe speed was a factor in the crash.