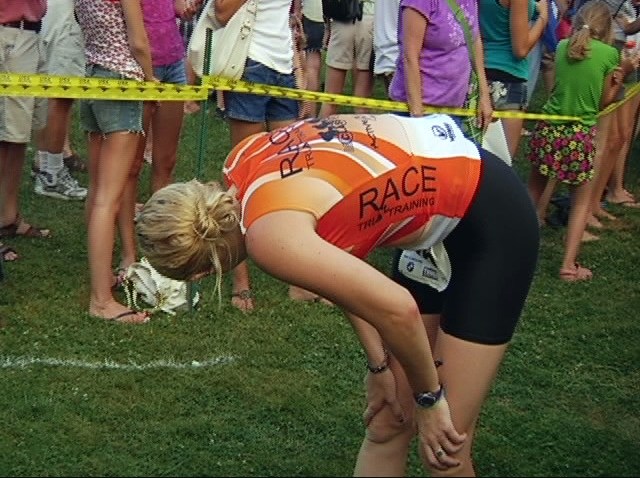 With temperatures soaring near 100 degrees Wednesday, more than 500 people dove into Lake Quassapaug for the Pat Griskus Sprint Triathlon in Middlebury.
"The swim will probably be the easiest and the best part," said participant Emily Anderson of Woodbury.
The half-mile swim was definitely the coolest part. "It's wicked hot," said Trevor Heller of Naugatuck. "Hopefully no one passes out on the course. That wouldn't be good."
Medics looked on and ambulances were ready, as the racers stripped off their wet suits and hopped on their bikes for a 10.5-mile ride. One of those racers was Tadas Racevicius, 13, of Watertown who was competing in his first triathlon. "I can deal with the heat," Racevicius.
Besides the 500 triathletes competing, there were hundreds of spectators lining the course through Quassy Amusement Park, cheering on the athletes as they laced up their sneakers for the final leg -- the 3.1-mile run. "All ages, all shapes, all sizes working hard in this heat. It's fabulous. It's fun," said Maryanne Cipriano of Waterbury.
Chris Thomas of Easton crossed the finish line first, about 57 minutes after the start of the race. "A couple points on the bike, I was like Woah! Back it up. That happens," Thomas said about the intense heat.
Shelly Wolfson of Rye, NY was the first woman to finish around 1:06. "Hot, very hot. It was great though," Wolfson said.
Two ambulances were called during the race. One for a man who was light-headed and unable to finish the race. The second for 13-year-old Tadas Racevicius, who was red-faced and gasping for air at the finish. But medics checked him out and he was fine.
Race organizers said they were relieved no one needed serious medical attention, given the intense heat and a field of more than 130 first-time racers.