Eleven people are displaced after a fire in Enfield Tuesday morning.
Firefighters responded to a multi-family home on Lincoln Street just after 3 a.m. and one of the eight residents was taken to the hospital to be treated for smoke inhalation, according to fire officials.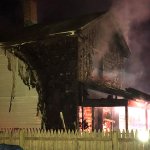 Five fire departments responded and provided coverage for the fire station.
Red Cross has been contacted to assist the displaced residents.
The cause of the fire is under investigation.