Former NFL star and Bristol native Aaron Hernandez was pronounced dead this morning after hanging himself in his prison cell at the Souza Baranowski Correctional Center in Shirley, Mass. early Tuesday morning, according to the Massachusetts Department of Correction.
Hernandez, 27, was found hanged in his cell around 3 a.m. Wednesday and transported to UMASS Leominster Hospital, where he was pronounced dead at 4:07 a.m.
Massachusetts Department of Correction officials said Hernandez hanged himself using a bed sheet he attached to his cell window. He was being housed in a single cell in a general population unit.
Bristol Reacts to Hernandez Murder Charge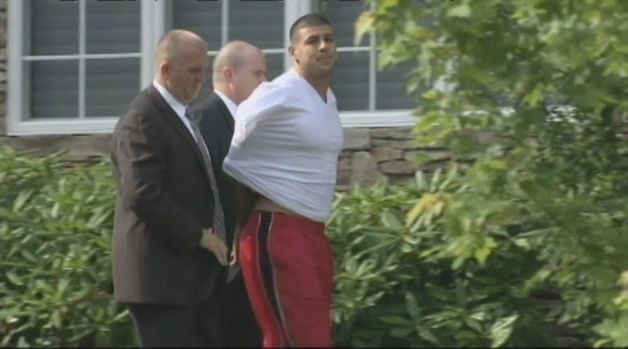 Officials said Hernandez tried to block the door from the inside by jamming items against it.
Massachusetts State Police are actively investigating.
The former New England Patriots tight end was serving a life sentence for the 2013 murder of Odin Lloyd, a 27-year-old landscaper and amateur football player.
Lloyd was shot six times early on the morning of June 17, 2013 in a deserted industrial park near Hernandez's home in North Attleboro, Massachusetts.
Hernandez was recently on trial for the 2012 double slaying of of Daniel de Abreu and Safiro Furtado in Boston and was aquitted Friday of all but a gun charge. Five days later, he is dead.
Hernandez's attorney, Jose Baez, said in a statement that his client's family and legal team was "shocked and surprised by the news and conducting their own "examination into this tragic event."
"There were no conversations or correspondence from Aaron to his family or legal team that would have indicated anything like this was possible," Baez said. "Aaron was looking forward to an opportunity for a second chance to prove his innocence. Those who love and care about him are heartbroken and determined to find the truth surrounding his untimely death. We request that authorities conduct a transparent and thorough investigation."
Aaron Hernandez was known in his native hometown of Bristol as a star high school football player.
After high school, Hernandez received a scholarship to the University of Florida.
Hernandez played for the Patriots from 2010 to 2012 and once had a $40 million contract. He was considered one of the best tight ends in the NFL before his arrest in 2013.
SUICIDE PREVENTION HELP: The National Suicide Prevention Hotline (1-800-273-8255) is open 24 hours a day, 7 days a week.
Published at 6:33 AM EDT on Apr 19, 2017 | Updated at 6:09 PM EDT on Apr 19, 2017