David Saville has never put on the pads for Clemson, but he is an integral part of the college football powerhouse.
In the same week his Tigers won their second national championship in three years, Saville was in New Haven to accept the Walter Camp Football Foundation American Hero Award.
"When I was growing up, I always had to work twice as hard as my friends, but I never knew the difference. I knew I could do almost anything," Saville said during his speech Saturday night at the Walter Camp awards dinner at Yale University.
Saville's week began at the College Football Playoff National Championship in Santa Clara, California where Clemson dominated Alabama 44-16.
Clemson Equipment Manager Accepts Walter Camp Hero Award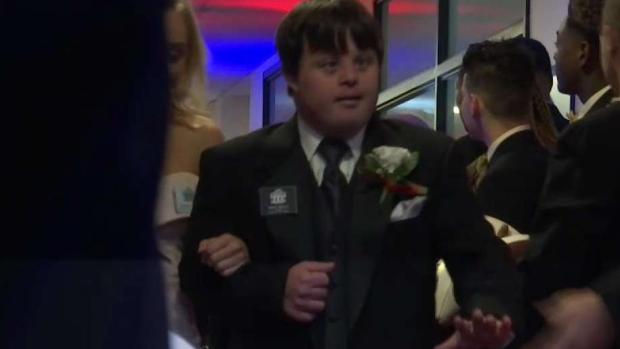 "Oh man it was so fun, it was so fun," said Saville, the team's longtime equipment manager.
Saville celebrated on the confetti-covered field after the game and told NBC Connecticut seeing Coach Dabo Swinney hoist the trophy was one of his favorite moments.
"David's always been positive, he never has a bad day," David's dad Bob Saville said.
Saville's unlimited positive is why he may be the most popular member of the Clemson football team.
"The team benefits from David being there just like David benefits from them," Bob said.
Born with Down syndrome, David Saville is a graduate of ClemsonLIFE, a postsecondary program that provides job training and prepares young men & women with intellectual disabilities to live on their own.
He also just finished his eighth season as the football team's equipment manager.
"When the coaches were down recruiting at his high school, they found David," Bob said.
Saville graduated from Norcross High School near Atlanta. In addition to being named Homecoming King in 2008 and participating in Special Olympics, he was twice the "Football Manager of the Year."
During Walter Camp weekend, Saville met patients at Connecticut Children's Medical Center in Hartford. It was a special visit for a young man who had heart surgery when he was 11-months old.
"He's been very healthy all this time and God has blessed him," Bob said.
Saville is the fifth recipient of the Walter Camp American Hero Award.
"I can tell you Coach Swinney was just ecstatic when he found out David got the honor, and he actually texted him on the way up, told him how proud he was of him," Bob told NBC Connecticut.
"This is an amazing award," David said. "It was so special to me."
To accept the award, Saville had to skip the Clemson championship parade.
"He'll miss that," Bob said, but we think this is worth it to be here."
On Saturday night, Saville was wearing his 2016 national championship ring as he posed for pictures with the other award winners next to Archie Manning.
"I'm so happy to be here with you tonight because football has been a big part of my life," Saville said when he took the stage.
He stole the show, ending his speech with this message that was met with a standing ovation.
"Remember what Coach Swinney said, the only disability in life is a bad attitude," Saville said. Go Tigers!"