High winds were a major damage factor across Connecticut during Tuesday's storm, but in some parts of the state hail was to blame.
During the storm, hail pounded parts of the state including in Granby. Some people reported they were the size of golf balls or even bigger. On Wednesday people were cleaning up and working to repair the damage that was left behind.
Damage ranged from broken window to dented car hoods to pits in building siding.
Christian Vitti captured the wild scene outside his home on Upper Meadow Lane.
Granby Hail Video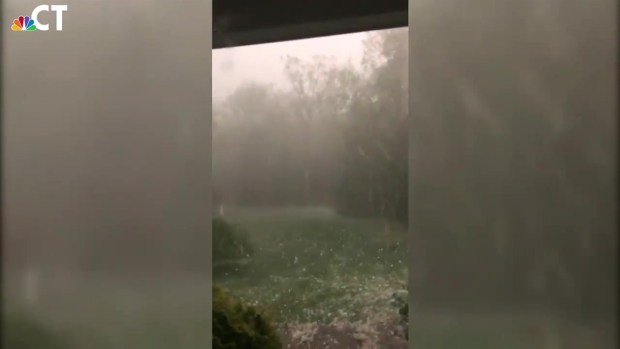 Nearby 14-year-old Patrick Taylor, along with his twin brother and their family's dogs, took cover in the basement.
"It's just scary. You can hear glass breaking," Taylor said.
Next door, Lori Blackburn also searched for a safe place.
"There's a window down at the end there and the hail came through and the hail ended up down here at this end of the house. It just blasted right through the house," Blackburn told NBC Connecticut.
When the onslaught ended, people ventured out to find an icy layer covering their yards. Vitti discovered the hail smashed lights and damaged garage doors and the home's siding.
Large Hail Leaves Damage Across Granby

"We actually put the plow back on the plow truck because the whole driveway and road was just covered in debris from trees," he said.
At Taylor's home, seven windows were broken and the siding on one side was heavily damaged. Similar things to fix at Blackburn's, whose car also was in the line of fire. It's now covered in dents and has a cracked front windshield.
"It can all be repaired. I feel bad that are down in the other part of the state and the people that were killed. We have damage but we're alive and we're fine. So, grateful," Blackburn said.
Many are reaching out to their insurance company to hopefully get the damage fixed quickly.