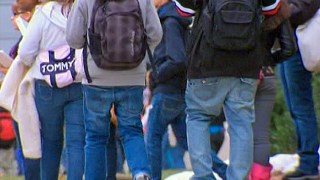 State leaders came together today to announce a new law that requires schools to provide age-appropriate sexual abuse education to children as early as kindergarten.
Gov. Dannel Malloy signed off on "Erin's Law" last month and announced the legislation Wednesday along with Lt .Gov. Nancy Wyman, state and local leaders and representatives from Connecticut Sexual Assault Crisis Services.
It comes just months after sexual assault survivor and activist Erin Merryn, for whom the law is named, visited Hartford, urging lawmakers to take action.
The law requires public schools to develop programs that will teach kids about sexual assault and how to protect themselves. Schools have until Oct. 1, 2015 to implement them, according to a release from Wyman's office.
"It is a shame that we have to teach these skills to our children, but I recognize that oftentimes the abuser is known by the child and the child is not sure what to do," State Rep. Diana Urban said in a statement Wednesday.
During her trip to Connecticut in March, Merryn explained the "swimsuit lesson," which urges kids to confide in parents or trusted adults if anyone touches them in the places their bathing suits cover.
"Honestly, I think the only ones that should be against this bill are the sex offenders themselves," she said while campaigning for the law in Hartford.
The bill made it through the State Senate last year but was halted in the House. Now, Connecticut is taking action.
"Erin's Law prioritizes efforts to give students the language and resources they need to respond to a threat or get help if they are victimized. This is important information that can help keep young people safe," Wyman said in a statement Wednesday.
Connecticut is the 18th state to pass Erin's Law.
Published at 8:24 PM EDT on Jul 30, 2014