As we approach the winter solstice the weather pattern is becoming decidedly less wintry. For many of us it will be a green Christmas with no sign of significant snow over the next several days and a general warming trend.
Check out the forecast temperature departures at 850mb by Christmas - you can see a real surge of warmth across the eastern half of the country with a pronounced ridge of high pressure over the southeastern United States.
Beyond Christmas there's really no sign of a good push of Arctic air either. The jet stream will take a dip over the northwestern U.S. and the infamous Polar Vortex is going to gain strength over the North Pole which generally keeps the cold bottled up north of the Arctic Circle.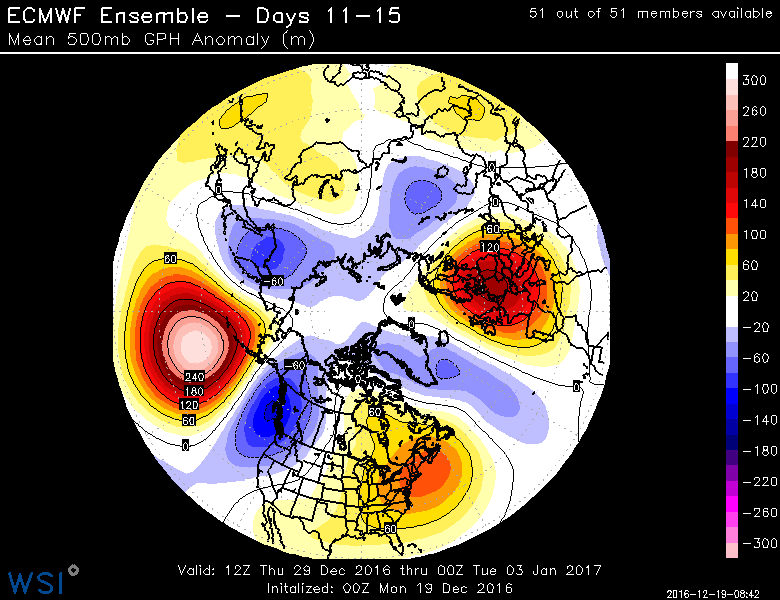 Still, there could be a few opportunities for snow and/or ice beyond 12/25. It's not a great pattern for snow lovers but it's not a hideous pattern either.
Unfortunately, it appears that a white Christmas is out of the cards for Hartford and New Haven. The Litchfield Hills, on the other hand, may maintain just enough snow cover to last for Christmas. Here's a look at some of the snow depth reports this morning in the towns that still have a few inches left...
New Hartford - 6.0"
Collinsville - 5.0"
North Canton - 5.0"
Enfield - 4.0"
North Granby - 3.8"