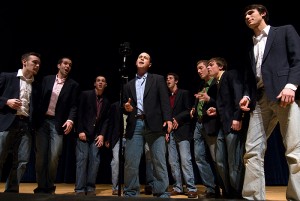 Practice, practice, practice can do more than get to Carnegie Hall. It can also turn a college a capella group into national recording stars, or could.
Two groups of men from UConn have gotten the Contemporary A Cappella Society's approval as being among the best college performing groups.
Conn-Men and A Completely Different Note -- known as CDN on campus -- will be included on CASA's nationally distributed compilation CD, "The Best of College A Cappella or BOCA 2010."
This is a year of national attention to a cappella and for CDN, who were apparently the subject of a tweet from Perez Hilton, who said:
"If you like Glee, listen to this awesome acappella cover of "Whatcha Say" by a group of college kids."
Here is the video that he was referring to:
The A Cappella groups join an elite crowd. The University of Connecticut is one of three colleges to have multiple groups achieving the honor. The other schools are Tuft's University and the University of Pennsylvania.
You might recall the Beelzebubs from Tufts were featured on the NBC show "The Sing-Off" and made it to the end, where they were first runner up.
CDN
has been on the Storrs campus since 1999 and sing everything from classical to rock to pop. CDN has put out several CDs.
Conn-Men have been on campus since 2001 and sing everything from Seal to
George Harrison
and even
Gavin Degraw
. The group has even performed at the White House. The group is also working on its first album.
"It's a great honor to be selected for such a highly-rated CD," John DePalma, of the
Conn-Men
told the university's daily newsletter. "If you sing in an a cappella group, you know what BOCA is. It was always in the back of our minds for one of our songs to be selected for BOCA. We never thought with thousands of songs submitted, ours would be one. It's like winning the lottery!"
The Conn-Men say they spent hours rehearsing a song to make sure it's right before performing it at events or recording it on an album.
You can hear songs from both University of Connecticut A Cappella groups on
iTunes
.