Showers moved through the state this morning, especially in eastern Connecticut, and more shower activity is expected later this afternoon and early this evening.
A few bright spots are possible late, otherwise clouds will dominate. Temperatures will struggle to reach 70-degrees this afternoon.
The cold front itself moves through Connecticut early this evening, and with it can come a few more showers.
Tomorrow's still mostly cloudy, but it should be a dry day. Temperatures will go down several degrees, only peaking in the middle-60s.
A blend of clouds and sunshine is expected on Thursday, but even with more sunshine temperatures will only rise into the upper-50s and lower-60s.
The second cold front of the week passes through on Friday, bringing with it lots of clouds and a few more showers. Temperatures on Friday will be in the lower-60s.
This weekend will be dramatically cooler.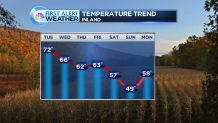 While temperatures on Saturday rise into the lower- to upper-50s, Sunday's high temperatures will be stuck in the 40s in many inland and hill-town locations.
The season's first hard freeze is likely Sunday morning across inland Connecticut, and another hard freeze is likely on Monday morning.