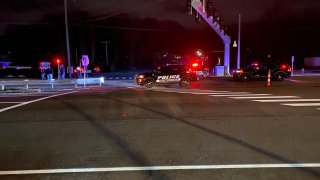 A woman is in critical condition after she was struck by a vehicle on the Berlin Turnpike in Wethersfield Sunday night.
Police said they received several 911 calls just before 8 p.m. after a person was struck on the northbound side of the road near Arrow Road.
Several police officers and paramedics responded and found the pedestrian was struck in the area of 1840 Berlin Turnpike.
She was treated at the scene and transported to a local hospital, where she is listed in critical condition.
The driver is cooperating with the investigation.
The Mid-State Accident Reconstruction Team is investigating this crash. Anyone who witnessed this crash or has any information about it is asked to call Sergeant Blair at the Wethersfield Police Department at (860) 721-2900 or email john.blair@wethersfieldct.gov.