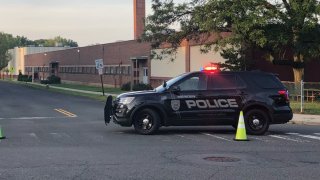 A state emergency response unit will be returning to at a facility in Meriden today to continue their clean-up efforts after a tractor-trailer leaked gallons of acid Monday.
The crew from the Department of Energy and Environmental Protection responded to the Tradebe facility on Gracey Avenue.
Officials at the scene have determined a drum inside the truck was leaking a combination of hydrofluoric acid, nitric acid, and chromium.
Tradebe is listed online as a hazardous waste removal company.
Nearby homes were evacuated after the acid began spilling from a tractor-trailer Monday afternoon.
The floor of the tractor-trailer has been severely damaged and several other drums have also been damaged, according to DEEP.
Officials said about 50 gallons of acid leaked, damaging 23 other drums containing acid and other waste chemicals..  
According to officials, 16 out of those 23 damaged drums inside the trailer have been packaged and readied for removal. The remaining drums will be packaged due to damage to the trailer from the leaked acid, all product will be removed from the trailer.
Will Healey, of the Connecticut Department of Energy and Environmental Protection, said sodium bicarbonate will be used to neutralize the damaged floor of the trailer as much as possible and the trailer will likely be cut into pieces and removed as hazardous and non-hazardous waste.
Several thousand gallons of acid-impacted water in the containment area of the loading dock will be pumped out to a stainless vacuum truck.
Duffy Avenue and Gracey Avenue were closed for several hours, but re-opened a little after midnight. The shelter in place has also been lifted, DEEP added.
DEEP Emergency Response Unit (ERU) personnel will return today for the oversite of the final clean-up efforts.