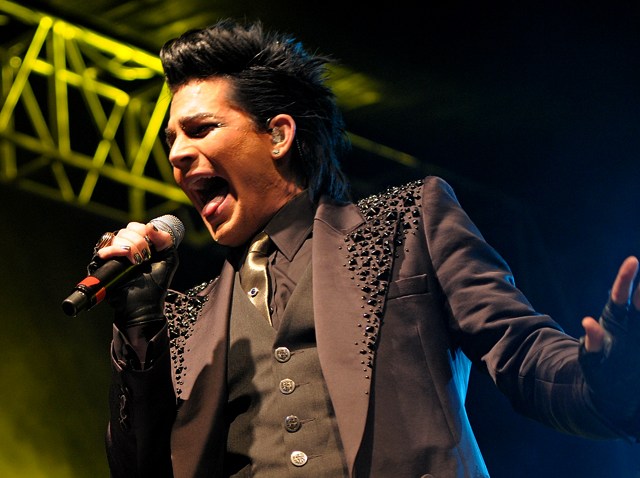 Imagine Adam Lambert, turn of the century New Orleans, mixed in with modern New Orleans, magic, crystal balls and psychedelic rock.
That's the world the American Idol star wants to bring you into during his "Glam Nation Tour."
Lambert brings that tour to MGM Grand at Foxwoods on June 24 and expect to see more than your average concert. Lambert's background is musical theater and this will definitely be a theatrical experience.
There will be original music, of course, And there will be some covers. He would not tell us what they are, but called them "wonderful surprises."
He'll use sets, music and, of course, the costumes -- made by Los Angeles-based Skingraft Designs, to bring you into his world and tell his stories.
"The show itself is inspired by turn-of-the-century New Orleans," he said.
He visited the city last year for inspiration.
"There's something about New Orleans. The energy there," he said. "There's a palpable sensuality about New Orleans. I've always been drawn to it."
There's also something about the history of voodoo that interests him, so it's no surprise that "Voodoo" is one of his latest songs. He calls it "fun, sexy, modern disco."
Sexy is key when it comes to Lambert's music and shows, and he'll be bring it on the Glam Nation tour, he told reporters on Wednesday, it will be sexy. It just will not be the type of sexy that caused the backlash at the AMAs.
"This is tasteful," he said.

Orianthi and Allison Iraheta are joining him on tour and he said he is excited about exposing his fans to their music.
If you're going to the show, don't expect to see Adam partying or gambling. He's not much of a gambler.
He also plans to take care of himself to deliver for all his fans.
"I'm doing 70 shows in three months, so it be important to rest and take care of myself," he said.
Recently, Adam told fans on Twitter not to bring him gifts. He does not have a place to store them and would rather not have fans spending their money on him. If you feel the need to make a financial contribution, he'd love to see the money go to charity – specifically donorschoose.org.
Adam also gave us a glimpse into what we'll see from him in the future. There will be his second album, and he's looking forward to spending more time on it than he was able to spend on the first one. He also told us that he's been talking to Nikka Costa about a possibly collaborating.
It's not for the tour, he said, and slyly moved on to the next question.
"It's all new," he said about a possible project with Costa.