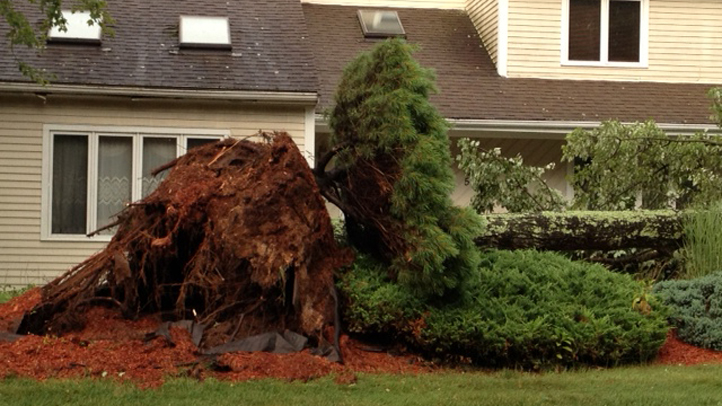 Intense thunderstorms moved through Connecticut Wednesday afternoon, causing damage in dozens of towns.
Officials from Sharon said trees and wires are down and power was out for about a quarter of town.
There were massive power outages in Cromwell, around 4,000, and police said there was damage everywhere.
Tom Roohr, a local official, said several streets were blocked and the traffic lights on Route 372 were out for part of the day.
Officials in Rocky Hill reported several power outages and a lot of damage and Danbury officials are reported damage in the downtown area. Danbury Mayor Mark Boughton tweeted pictures of downed trees and powerlines.
Homes were reported damaged by trees in several towns, including Harwinton and Cromwell.
Bradley Airport was in a holding pattern after a lightning strike at the intersection of two runways, but air traffic was back in operation after an hour or so. Check with your airline to see if there are delays.
At one point, the storms brought almost 2,000 lightning strikes in an hour.
Connecticut Light and Power reported more than 34,000 power outages at the height of the storms.
Mitch Gross, of CL&P, said everyone is working or on call for this storm.
If your power is out, you can call 800-286-2000 to report them. If there is an emergency, such as wires down, call 911.
The storms broke what was the fifth heat wave of the summer.
The temperature reached 100 degrees at Bradley Airport at 2 p.m. That set a record for this date, breaking the old record of 99 degrees.