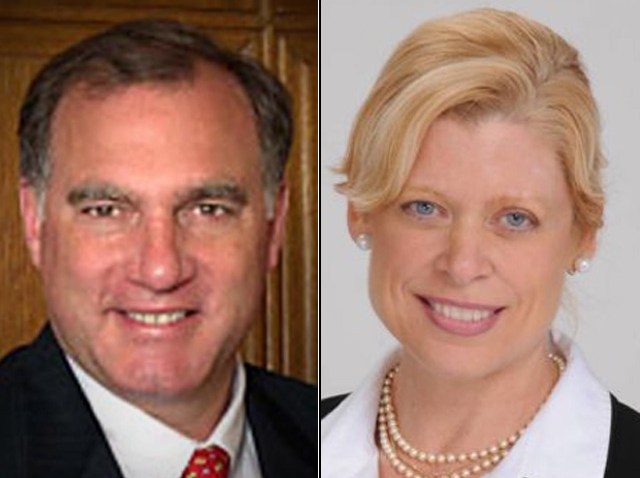 The next four years in the Connecticut attorney general's office will not be like the last 20, the major-party candidates for the position said Monday.
The office's focus after Democrat Richard Blumenthal leaves were among the topics discussed during the second debate between Democrat George Jepsen and Republican Martha Dean at Quinnipiac University School of Law.
Jepsen and Dean want to replace Blumenthal, who has held the office for 20 years. He's in a race for the U.S. Senate seat Chris Dodd will vacate by retiring.
Jepsen, an attorney from Ridgefield, defended Blumenthal's tenure, saying he has built an "extraordinary record" as attorney general. Jepsen even called on his opponent to apologize for accusing Blumenthal of dropping the ball during the debate of same-sex marriages in the state.
"You can disagree with him on issues, but I think you should include that Dick Blumenthal has been nothing but honest while serving," Jepsen said.
Dean, a lawyer from Avon, referred to Jepsen as "Blumenthal-lite" and accused her opponent of pursuing the attorney general's office to further his political career.
"I believe that my opponent is really using the office of the attorney general to be some sort of a super-legislator," she said. "He's been a legislator, a career politician. That's honorable, but that's not what this job is all about."
Jepsen said that although he is a former state Senate majority leader, he described himself as a "career lawyer." He also said that while he admires Blumenthal's work, he would not be a carbon copy.
"Martha ran against Dick Blumenthal in 2002 and it seems she's been running against him ever since," Jepsen said, referencing Dean's previous failed bid for the attorney general's office. "I'm your opponent in this race and I think you'll find that George Jepsen is not afraid to be his own person."
Jepsen said he would be a more "low-key" attorney general and would focus more on environmental, energy and financial issues. He also said he would lobby the legislature to grant the office more authority in cases of business and mortgage fraud.
Dean said Blumenthal has promoted a "sue first, ask questions later" practice in the attorney general's office and that she would work to drop many of the office's pending lawsuits.
She said she would uphold the U.S. and Connecticut constitutions and enforce the laws of the state, even though she personally opposes some of them.
The Republican also mentioned that she supports the idea of nullification, a legal doctrine from the 1800s that gives states the power to reject federal laws they find unconstitutional. She dismissed notions that the idea could be viewed as disruptive.
"This is not some sort of an effort to (secede) from the nation," she said. "It's part of who we are. It is the last resort when the federal government grabs power that it is not properly assigned."
Jepsen said the Supreme Court should retain the power to declare a law unconstitutional, not individual states.
"It's an outdated and discredited doctrine," he said. "It has no place in our discussions today."

Follow us on Twitter @NBCConnecticut, on Facebook, and sign up for breaking news SMS alerts on your phone by texting "CTBREAKING" to 622669.
Copyright AP - Associated Press