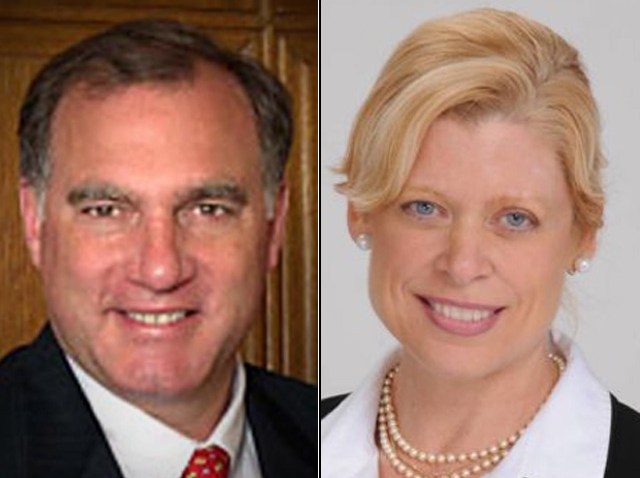 A judge did not rule on Republican Martha Dean's lawsuit to have her opponent for attorney general removed from the ballot. And it's unlikely that a ruling will be made by Election Day.
Dean filed the suit on Tuesday asking that Democrat George Jepsen to prove before Election Day that he is qualified to run for the office.
State law requires candidates to have actively practiced law for 10 years. On Friday, a hearing will be held and Jepsen is looking for the case to be dismissed.
In her suit, Dean cited a Supreme Court opinion issued last week about its finding that Secretary of the State, Susan Bysiewicz, was not qualified to run for the seat.
"The Court emphasizes that the Attorney General must be not just a lawyer but a litigator, with at least ten years of experience in court and experience trying cases," Dean wrote. "Since Mr. Jepsen has publicly admitted multiple times that he is 'not a litigator,' he should immediately provide appropriate proof to the court and to the voters of Connecticut that he meets the legal qualifications for the office of Attorney General."
Jepsen said the legal challenge has no merit and is a waste of the court's time and the state's money. On Thursday, he filed papers saying Dean has no legal standing for the suit.
"I have the legal experience in and out of court to satisfy any interpretation of the court's standard. I am and have been a practicing attorney for 26 years. I have made my living from private practice. I have represented clients in courts in this state, from probate courts up to the Connecticut Supreme Court," Jepsen said earlier this week.
Dean has asked for names of cases or case numbers for cases Jepsen handled.
Attorney General Richard Blumenthal, a Democrat, is not seeking re-election. He is running for U.S. Senate against Republican former WWE CEO Linda McMahon.