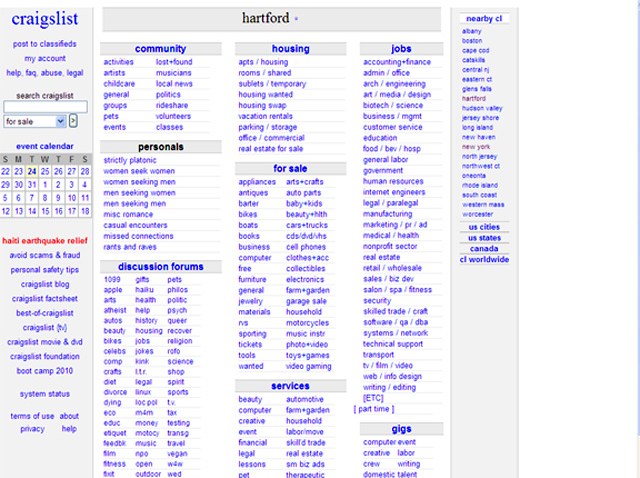 Attorney General Richard Blumenthal wants Craigslist to immediately remove the adult services portion of its Web site because of rampant prostitution advertisements.
Blumenthal and 16 other attorneys general sent a letter to CEO Jim Buckmaster and founder Craig Newmark, saying that Craigslist cannot, or will not, adequately screen these ads, so it should stop accepting them altogether and shut down the adult services section.
"We recognize that craigslist may lose the considerable revenue generated by the Adult Services ads. No amount of money can justify the scourge of illegal prostitution, and the suffering of women and children who will continue to be victimized, in the market and trafficking provided by craigslist," Blumenthal said.
The company and Blumenthal reached an agreement in 2008 to discourage prostitutes from using the site to find johns, but he said craigslist remains a hot spot for blatant prostitution ads.
In July 2010, two girls who said that they were trafficked for sex through craigslist wrote an "open letter" to company officials, asking them to get rid of the adult services section and told about brutalization and assault they, and other children, experienced, the attorneys general said in the letter.
Earlier this month, Buckmaster wrote a contributed piece for CNN.com about his company's efforts to bar child sex ads.
"We believe Craigslist is one of the few bright spots and success stories in the fight against these terrible scourges. We've been told as much by experts on the front lines of this fight, many of whom we have met with, and many of whom have shared helpful suggestions that we have incorporated in our approach. Even politicians looking to advance their careers at the expense of Craigslist's good name grudgingly admit, when pressed, that we have made huge strides, and that Craigslist is virtually alone among advertising venues in vigorously combating these problems," he wrote.
While the perpetrators might eventually be apprehended and brought to justice, the victims, assuming they survive, will carry the scars for life, the attorneys general said.
States joining Blumenthal's letter include: Arkansas, Idaho, Illinois, Iowa, Kansas, Maryland, Michigan, Missouri, Montana, New Hampshire, Ohio, Rhode Island, South Carolina, Tennessee, Texas, Virginia.