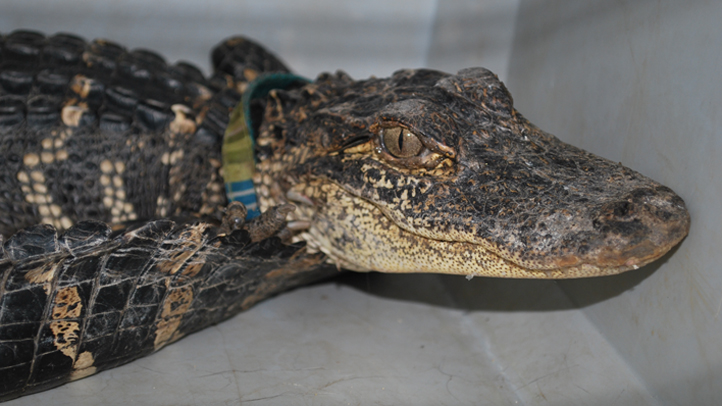 A 2- to 3-foot long alligator wearing a collar that was roaming a residential neighborhood in Enfield has been caught near the Connecticut River.

Enfield police Sgt. Mark Squires told The Journal Inquirer of Manchester that authorities were called out around 7 a.m. Friday after the alligator was seen in the Thompsonville section of town.

It was at a bus stop, according to the state Department of Energy and Environmental Protection.
It was wearing a collar, but there was no leash. It was not immediately clear where the animal came from.

A representative from the state Department of Energy and Environmental Protection responded to the situation, along with animal control officers and Enfield police.
No injuries were reported and t he animal wil be brought to Rainforest Reptiles, an education facility in Massachusetts.
It is illegal in the state of Connecticut to own alligators, crocodiles or caimans. They are on the list of exotic animals prohibited in the state.
DEEP has authority to seize animal that is illegal and seek restitution for any costs we incur in dealing with the animal.

The fine for a civil penalty is $1,000 fine. The penalty for a Class C misdemeanor is up to three months in jail and fine of up to $500.



Copyright AP - Associated Press