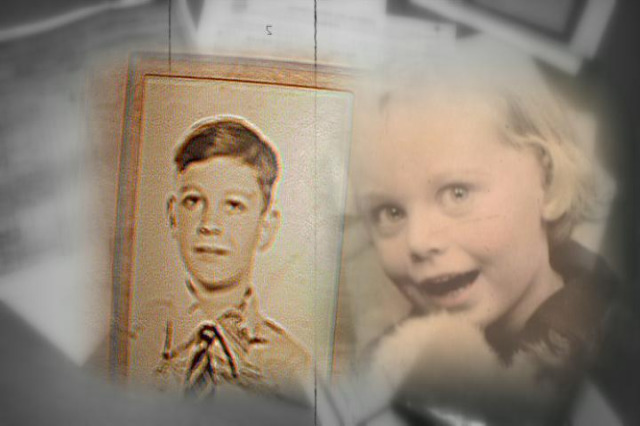 Paul Stewart, of Burlington, is about to celebrate his 70th birthday and he's lived a good life. He has a loving wife, children, grandchildren and friends, but there was always something missing. His mother.
"Since as long as I can remember, that's all he ever talked about because he just felt like he was missing a big part of his life. He was empty," Paul's daughter Kim Melanson said.
When Paul was 6 and his sister was 9, their mother left them at a Boston orphanage. The children were eventually raised by a couple in Bristol, but Paul always wondered about his mother.
"I thought I was a throwaway as a kid to be honest with you," said Stewart.
Yet, he looked for his mother.
"Many years ago, I started looking and it sounds stupid now, but all I did was pick up a phone book because you didn't have the computers and all that stuff to trace anyone," he said.
His searches always turned up empty.
Then, a few months ago, Paul's good friend Nancy Letalien asked if she could give it a tr and did some research using ancestry.com.
"I said, 'Why don't you show me whatever documents you have and we'll see what we can find,'" she said.
Within a week, Nancy found a cousin, then an uncle. When Paul got him on the phone, there was another big surprise.
"He says your mom is still alive and she's living in Florida," said Paul.
Within weeks, Paul was on the road, driving to Florida for a Valentine's Day meeting with his mother.
"It was fantastic. I'm trying to get him out of the car so he can get over there. He has the teddy bear and heart and a dozen red roses," Paul's wife, Bunny, said.
"Here I am, a 70-year-old man and I've got a mom who is such a sweetheart," said Paul.
Paul now talks to his mother Marge every night and the experience that has changed this entire family.
"I'm so happy he persevered and found me. It was wonderful. It was wonderful," said Paul's mother Marge.
"It's unbelievable. We figured he'd find someone but at my age to have a grandmother back in my life it's amazing," said Melanson.
Paul's mother had left it up to the kids to initiate contact, always praying it would happen.
"Every single day, I thought of them," she said. "They never were out of my mind or my heart, never."
Paul's sister Jeanne passed away a few years ago. Now, from the reunion Paul learned his mother only left them at the orphanage to protect them from an abusive husband.
Now the past isn't so important as Paul's living for the future.
"It was such a gift from the lord that I found her," he said. "I feel complete I really do I feel very complete."