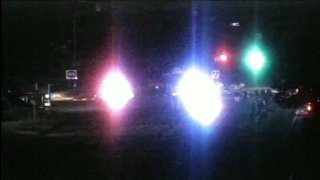 A 58-year-old Waterbury woman has died after a violent crash in Waterbury on Monday night and police are looking for the driver who fled the scene.
A person driving a Ford Explorer came off Route 8 at Exit 35 and sped through a red light at East Aurora Street, colliding with a pickup around 8:40 p.m., according to Waterbury police.
The force of the crash caused the pickup to roll over several times before hitting a Lexus, which then hit an ambulance, police said.
The male driver of the Explorer and a female passenger left the scene before police arrived, according to police.
The driver of the pickup was taken to the hospital and was pronounced dead. Police have identified the woman as 58-year-old Jacqueline Sheppard, of Waterbury.
A passenger in the pickup was treated for non-life-threatening injuries.
The occupants of the ambulance were taken to the hospital to be treated for non-life-threatening injuries as well, police said.
The driver of the Lexus was not injured.
Police are still looking for the driver and passenger of the Explorer.
Anyone who witnessed the crash or has information on the people who were in the Explorer is asked to call Waterbury police at (203) 346-3975 or Crime Stoppers at (203) 755-1234.