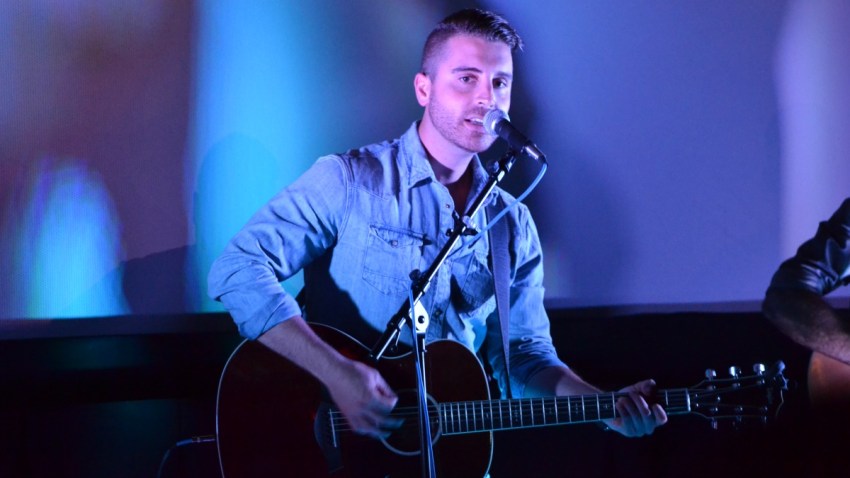 It was a beautiful life for the U.S. women's soccer team Sunday night as they defeated Japan 5-2 to claim their record third World Cup title at the close of Fourth of July weekend. But the players weren't the only American idols representing the United States in Vancouver.
American Idol winner and Guilford native Nick Fradiani is also living the beautiful life, known for his radio hit song by that name, most recently performing in the FIFA Fan Zone in Vancouver during the World Cup festivities on the Fourth of July, according to his Facebook page. His band, Beach Avenue, including percussionist Ryan Zipp, of Hamden, and guitarist/mandolin player/singer Nick Abraham, of Fairfield, backed him for the show. One of the songs they performed was "Beautiful Life," as seen in this YouTube video posted under the account, Elizabeth Rosalyn The.
Fradiani performed a free, three-song show for World Cup fans in the fan zone that was televised on FOX, the network that airs "American Idol." FOX Sports broadcasted the World Cup tournament.
His song, "Beautiful Life" was Fox Sports' official anthem for World Cup coverage, producing a music video featuring him singing and the U.S. women's soccer team as a promo for the World Cup.
Before Fradiani was crowned American Idol, he and his band gained national recognition for competing on "America's Got Talent," which airs on the NBC network. NBC Connecticut is an NBC-owned station.
Fradiani returned to Connecticut after his "American Idol" win to play some of his first concerts in Hartford at The Russian Lady for 96.5 TIC's Acoustic Cafe and Spotlight Theatres on Front Street, which hosted many watch parties during the run of the season.
Next, Fradiani will travel across the country to perform on the "American Idol" tour from July 7 to Aug. 28. The closest locations to Connecticut the tour stops at are in Massachusetts, New Jersey, New York, New Hampshire and Maine.