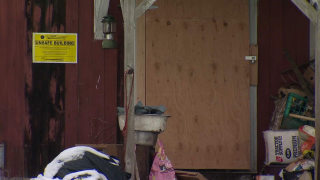 An animal control officer has been placed on administrative leave amid an investigation into concerns about the welfare of animals at a farm in Beacon Falls.
Patrick Dionne, who is the Beacon Falls animal control officer and also works as an animal control officer in Waterbury, is on paid administrative leave in Waterbury based on his involvement with the Beacon Falls Animal Control, according to Waterbury police.
This comes amid an investigation into concerns about the welfare of animals at a farm where nearly 100 sheep were seized last month.
The Connecticut Department of Agriculture (DoAg) said a complaint filed against the farm revealed "animal welfare concerns, including unsuitable living conditions, excess growth of wool causing skin conditions and bald patches, as well as lameness due to overgrown hooves."
DoAg officials said they executed a search and seizure warrant at the farm on Lopus Road on Friday, Feb. 24.
Approximately 99 sheep and one goose were seized during the search. Woodbridge Regional Animal Control also reported that 15 cats were surrendered to them voluntarily.
Officers found five sheep and two lambs dead on the farm, according to the arrest warrant. The property was "littered with debris, including pallets, cat food containers, fence posts, construction debris and general trash." Officials said they found animal carcasses and bones on the property, as well, the warrant states.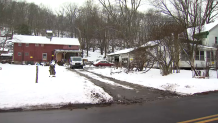 Of the sheep, 65 are adults and 34 are lambs. Officials said the animals will remain in DoAg custody, and will be evaluated and treated by state licensed veterinarians.
A complaint filed on Feb. 22 revealed that a woman's two sheep were taken to a veterinarian to receive critical treatment. They were then transported to a rescue barn in Niantic.
The barn is on a residential property with several acres of land. According to the arrest warrant, an ewe, or a female sheep, gave birth to two lambs, one of which was dead. The barn owner told police that the lamb had died because it had fallen into a water bucket and drowned.
The warrant states that the bedding hay in one of the sheds was damp and wet, and "unsuitable for the animals to maintain body temperature."
The seizure happened a few days after the complaint was filed.
"Removal of animals is a last resort after attempting to work with the owner to voluntarily improve the standard of care," a DoAg spokesperson said in a statement.
Animal owners facing hardship can call the Department of Agriculture at 860-713-2500.