The NBC Connecticut meteorologists have issued a First Alert for a third nor'easter in just as many weeks.
The European Ensemble forecast below shows the wide spread of possible outcomes for the storm's location late Monday into Tuesday.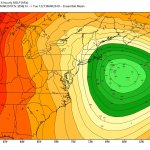 Here's a breakdown of three possible scenarios.
Fringe effects: Where the storm comes close enough to bring some snow - likely a few inches across the state.
Closer track: This would bring a storm similar to Wednesday, with heavy wet snow for some, and rain and mixing along the shoreline.
A total miss: We don't see any issues from the storm.
There is still a lot of uncertainty with the track of this storm, but as of Saturday it looks like the most likely scenario will be the fringe effects, with a few inches of snow statewide. However, there is still the chance of the track shifting closer, hitting us with another significant storm.
A total miss is the least likely scenario.
NBC Connecticut will continue to monitor the forecast. Check back for updates.