A man robbed an XpressMart in Ansonia on Thursday night and police are trying to determine if the same man tried to rob a Shell gas station in town two nights earlier.
Police responded to the XpressMart, at 180 Wakelee Avenue, at 10:34 p.m. to investigate a robbery and learned that a man had robbed the store at gunpoint.
He had a dark colored handgun and stole around $2000 in cash and several packs of cigarettes, police said.
No one was injured during the robbery.
Police are looking for a man with dark curly hair and a clean shaven face. He is around 5-feet-6 and was wearing dark color clothing during the robbery.
Police do not have any photos.
On Tuesday night, a man with a similar description robbed the Shell Gas Station at 696 Main St.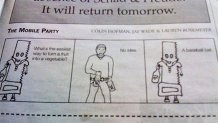 Anyone with information is asked to call Ansonia Police at 203-735-1885.