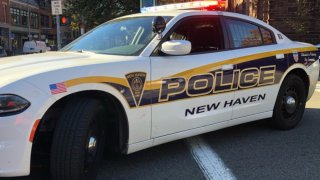 Police are investigating after an armed carjacking in New Haven early Sunday morning.
Officers were called to Nash Street around 2:15 a.m. after getting a report of a robbery.
According to police, the 29-year-old victim reported he had walked from a bar on State Street to his home on Nash Street.
As he opened the door, the man said he was accosted by a masked man with a black gun who demanded his cell phone and car keys.
Investigators said the man handed over the items and the suspect took off in the man's gray Ford Escape with a Connecticut license plate of BB30745.
The suspect is being described as a man who is 5-foot 6-inches tall and was wearing dark clothing.
Anyone with information is urged to contact detectives at (203) 946-6304 or through the department's anonymous tip line at (866) 888-TIPS.