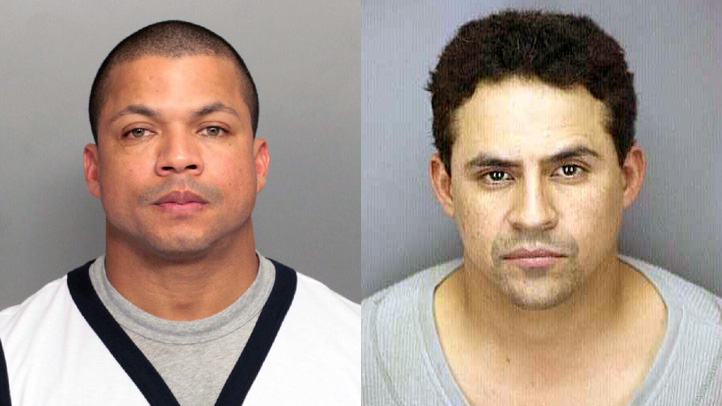 One of two brothers from Cuba accused of of committing a $80 million drug caper that included an elaborate scheme of rappelling into a warehouse and disabling the alarm system was arraigned on Thursday.
Amaury Villa, 37, and Amed Villa, 46, citizens of Cuba who have both been living in Miami, have been charged in connection with the largest pharmaceutical heist in U.S. history, as well as the biggest theft in Enfield and state history.
Amed Villa was arraigned in U.S. District Court and plead not guilty.
It's the biggest robbery in Connecticut history, so whoever did it certainly spent a lot of time preparing for it. But we don't know as we stand here that it was my client who was responsible," said Jonathan Einhorn, Villa's attorney.
A water bottle Amed allegedly left behind at the scene apparently helped lead officials to the suspects, U.S. Attorney David Fein said during a news conference to announce the arrests.
"That makes for good press and it sounds sort of Tom Cruise-ish, but let's see if they really have the evidence and they've got to connect it up to prove their case," Einhorn said.
The brothers, who were arrested in Florida, are accused of participating in the thefts of Gemzar, a chemotherapy drug used to treat lung cancer; Zyprexa, a depressant and antipsychotic used to treat bipolar disorder; Prozac, Eli Lilly's first billion-dollar drug and the company's top seller before it lost patent protection several years ago; and Cymbalta, which is used to treat anxiety disorders.
"As far as we know, this brazen crime is the biggest theft in Connecticut history, and in the history of the pharmaceutical industry, countrywide," Fein said.
The arrests come amid a broader ongoing multistate investigation into cargo thefts.
Amaury is among 11 people charged in Florida with possession and sale of drugs stolen from tractor-trailer cargo at truck stops in Pennsylvania, Ohio and Tennessee, as well as drugs stolen from a GlaxoSmothKline warehouse in Virginia, Fein said.
"Stolen drugs pose a clear threat to public health," Fein said.
Ahmed has also been charged in Illinois in connection with the theft of 3.500 cases of cigarettes worth more than $8 million from a warehouse in Peoria, Illinois, federal officials said.
Federal officials said the brothers staked out the Eli Lilly warehouse in January 2010, when Amaury flew into LaGuardia, rented a car and drove to Windsor, where he was caught on surveillance looking into the Eli Lilly facility. The next day, he returned to Miami.
Then, in February, 2010, one of Amaury's associates received an email with lease agreements for two tractor-trailers, Fein said.
On March 12, 2010, the day before the heist, Amaury flew back to New York and checked into a hotel in Windsor.
The break-in happened after 10 p.m. on March 13, 2010, as Enfield caught the edges of a nor'easter that battered the region with heavy rain and wind.
Authorities said the thieves cut through the ceiling and rappelled inside and disarmed the alarms.
Over the next five hours, Amed and others used a forklift inside the facility to lift boxes and load them into a tractor-trailer, Fein said during a news conference.
At 3:40 a.m., they left the facility.
Despite the elaborate efforts to skirt security, Amed touched a water bottle while there and left it behind, federal authorities said.
Whether a fingerprint, DNA or something presented the link to Amed is something that is not yet clear.
In addition to the water bottle, surveillance video picked up the brothers. There were also documents linking the men to rental cars and leases.
Later on the day of the heist, Amaury checked out of a hotel in Windsor and later returned to Miami, Fein said.
On Oct. 14, 2011, authorities found about $80 million in pharmaceuticals in a storage facility in Doral, Florida.
The Florida indictment charges 11 people with possession and sale of narcotics, some of which were stolen in the Enfield heist, federal officials said. All or virtually all people believed to have been involved have been identified, Fein said.
It's not yet clear when the brothers will appear before a judge in Connecticut on those charges.
Copyright AP - Associated Press