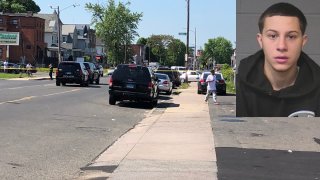 Police have made an arrest in a fatal shooting on Wethersfield Avenue in Hartford.
The shooting took place on just before 3 p.m. on May 26 near 530 Wethersfield Avenue.
Officers were notified by Shot Spotter and when the arrived at the scene, they found a victim suffering from multiple gunshot wounds, according to police.
The victim later died at the hospital.
Detectives developed leads on a suspect and applied for an arrest warrant for 23-year-old Johnny Rodriguez.
Rodriguez turned himself in to police on Tuesday after learning of the warrant for his arrest, according to officials.
He faces one count of murder and one count of carrying a pistol without a permit.
Rodriguez was held on a $1.5 million bond.